Delays, mistakes plague 911 system
More calls and new technologies have increased pressure on emergency responders.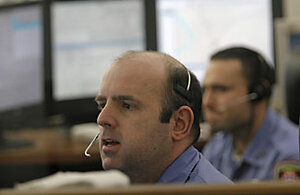 Mario Villafuerte/Special to The Christian Science Monitor
Sloppy dispatchers protected by political patronage. Million-dollar software that crashes, putting dozens of emergency callers on hold. "Victims" who call 911 to complain about their Subway sandwich or their kid's refusal to go to school.
Such scenarios are part of a recent spate of delays, mix-ups, and breakdowns plaguing the nation's 911 system, sparking debate from San Francisco to Atlanta over the capacity of America's "first responders" – the calm-voiced dispatchers – to deal with emergencies quickly.
The problems come at a critical time for the nation's 40-year-old 911 network. Overall, better training, technological advancements, and increased post-9/11 funding have improved emergency response, saving many lives.
But outdated or mismatched equipment is in some cases hampering the ability of dispatchers to respond efficiently. And new technologies such as texting and video phones – New York this week began accepting text messages and video to their 911 centers – promise to put even more stress on the controlled chaos of the emergency switchboard.
"Our 911 challenges are symptomatic of an increasingly complex society where a heavy reliance on technology is at least partly to blame," says Mike Williams, the president of The Abaris Group, an emergency response consultancy in Walnut Creek, Calif. "When 911 calls fall apart, bad things happen."
---