After Ike, to rebuild or not?
Coastal Texas now faces the classic question asked in the wake of other natural disasters.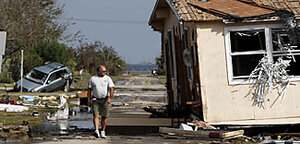 Carlos Barria/Reuters
Wrecked sailboats and shrimpers litter Galveston Bridge. Pilings from 30 blown-away beach homes stick out of the water, the beach gone. The historic haunts where Frank Sinatra and the rest of the Rat Pack once congregated – disintegrated by hurricane Ike.
But safely ensconced behind a 10-mile long seawall built after a catastrophic 1900 hurricane, native Galvestonian Andrew Shelton took barely a lick from Ike. On either side of the seawall, however, a 12-foot storm surge claimed perhaps hundreds of recently built homes with beach access and million-dollar views.
The contrast, says Mr. Shelton, reveals the folly of an exuberant coastal policy that has allowed taxpayer-subsidized market forces to place some of the nation's most valuable real estate on the coast's most unpredictable perches.
"The irony of this storm is that rich people who built outside the seawall got wiped away and the lower economic classes who trust the seawall survived," says Shelton, whose great-great-grandfather, John Henry Hutchens, survived the 1900 hurricane, which killed more than 6,000 islanders.
As the unprotected West End neighborhoods of Galveston Island remained impassable, and news came that much of Bolivar Peninsula to the east, also unprotected, had borne the brunt of Ike's massive wall of water, questions are being raised about the storm's impact on coastal development.
---