Ahmadinejad to dinner? Furor ensues over religious groups' event.
The Iranian leader's appearance at an interfaith meal, expected Thursday, divides the faith community.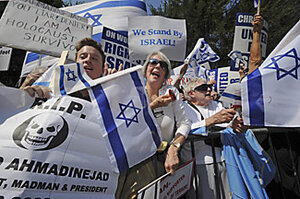 Louis Lanzano/AP
To talk or not to talk. That's the debate roiling diplomats regarding US relations with Iran. Now that debate has spilled, with all its fervor, into the arena of interfaith dialogue.
Religious organizations dedicated to global bridge-building and peacemaking are under fire for cosponsoring an interfaith iftar dinner Thursday evening that includes President Mahmoud Ahmadinejad of Iran. The Iranian leader is in New York to speak at the United Nations.
The religious groups see the event as part of a multifaith collaboration on issues of shared concern.
"There's been background work spanning years with the previous reformist president, Mohammad Khatami, which goes on regardless of the vicissitudes of political leadership," says William Vendley, secretary-general of Religions for Peace USA, part of a 30-year-old global body.
Other organizations see the dinner, coming as Iran seems to be thumbing its nose at faiths other than Islam, as giving legitimacy and stature to someone who should be viewed as an international pariah.
---