JROTC: Leadership course or recruiting tool?
San Francisco will vote in November on a ballot to save the military program in schools.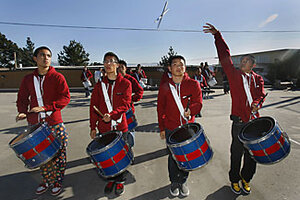 Tony Avelar/the Christian Science Monitor
San Francisco and Washington
Some San Francisco students are taking to the streets over military involvement in schools – to support it.
On a recent afternoon, they are on 24th Avenue. Adeline Wong and Michelle Ha knock on every door down the block touting a ballot proposition that would save a military-tied program in their school. The city's board of education narrowly voted in 2006 to phase out military education courses, known as junior ROTC, arguing it was a form of recruitment.
Adeline, a senior at Lincoln High and the school's senior battalion commander, is trying to tell voters that her favorite extracurricular activity isn't grooming her to be GI Jane. "It's funny hearing other people's understanding of the program. It's so limited, so stereotypical – if you're in a uniform, you are going to go into the military," says Adeline, who is gunning for a master's degree in biotech.
Students in the program shake their heads over the adult battle that's erupted. The issue has sharpened skirmishes for local government seats, drawn verbal volleys from national pundits and activist groups, and grabbed the Pentagon's attention.
No other major urban school district has followed San Francisco's phaseout, but with emotions high over an unpopular war in Iraq, efforts to curb military engagement with students have gained traction across the country.
---