Rays, Phillies aim for new history
Philadelphia looks to end a title drought, while Tampa Bay tries to complete a dramatic turnaround.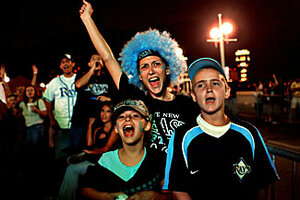 Cherie Diez/St. Petersburg Times/AP
The Tampa Bay Rays are such upstarts that baseball lore, for them, is basically what happened yesterday.
The Philadelphia Phillies, a squad that's lost more games over its 125-year history than any other club, know deep down that if they win the World Series, it will be despite their legacy, not because of it.
The World Series matchup of the Rays versus the Phillies is, on the face, a rivalry of long shots versus the biggest losers in the league. Only one player, Philadelphia's So Taguchi, has ever had a hit in a World Series before.
Yet this year's meeting of what could be called the anti-Yankees versus the anti-Red Sox is still likely to showcase baseball at its best: a dynamic Rays team with the power of youth on its side and a steely Phillies squad whose determination is burnished by exceptionally ardent fans.
Will the absence of history count for more than the weight of history in this matchup?
"The challenge that both teams face is how they handle the pressure," says Joel Fish, director of the Center for Sport Psychology in Philadelphia. "Tampa just came through almost suffocating pressure in having to stare down Red Sox Nation, and the Phillies have a different kind of pressure of not only carrying this team, but carrying teams of years past and a city that hasn't won a major championship in 25 years."
---
Follow Stories Like This
Get the Monitor stories you care about delivered to your inbox.