In Philly, championship-starved fans hope anew
The Phillies' appearance in the World Series has given them something big to cheer about. Team spirit is popping up everywhere as the World Series shifts to Philadelphia for Game 3 Saturday. The city's fountains are gushing Phillies red banners of support hang from uncompleted skyscrapers bakers are producing cupcakes iced with baseball laces.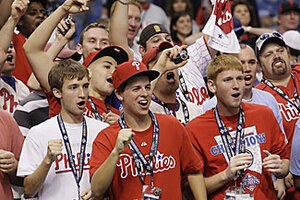 David J. Phillip/AP
When the economy is in the dumps, there is nothing like the crack of the bat in a World Series game to help many Americans feel better. Just ask sports fans in the City of Brotherly Love.
"Philadelphia's got spirit," says Brian Burkhardt, a musician. "After the Phillies got in the Series, I jumped in the back of some guy's pickup truck and rode around the city for hours. And I didn't even know him."
Behind all the hoopla is a city desperate for a championship. For more than 25 years, such an honor has eluded the four major sports teams in this sport-obsessed city.
"There is a level of frustration out there," says Gov. Edward Rendell, a former Philly mayor and a big sports fan himself.
How desperate is Philadelphia? In 2004, Governor Rendell says, the whole city was rooting for Smarty Jones to win the Triple Crown of horse racing since the horse was from Chester County, close to the city. After the horse failed to complete the sweep, he says, "People came up to me and said, 'I can't believe Smarty choked like all the rest of them.' "
Fans here – although passionate about their sports teams – are also some of the toughest. In the late 1980s, when Phillies Hall of Famer Mike Schmidt was finishing up his career, he would get booed. After a holiday extravaganza was canceled at an Eagles game in 1968 because of bad weather, the fans pelted Santa Claus with snowballs.
---