Key to stemming high-school dropouts: parents
Many parents of students in low-performing schools say they're not kept informed, a new report finds.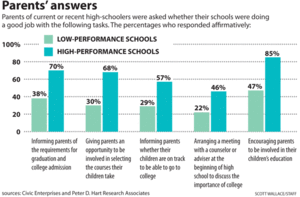 Scott Wallace - Staff
If America is going to stem the dropout crisis, low-performing schools will have to do a better job of reaching out to parents.
That's the conclusion of a new report that found that, among parents with students in low-performing high schools, fewer than half said the schools did a fairly good job communicating about their child's academic progress.
The report's findings "counter the myth that many parents, including low-income parents, don't value education or don't want to be further engaged by the schools," says John Bridgeland, the report's coauthor and CEO of Civic Enterprises, a public-policy firm in Washington. "Parents with students in low-performing schools see the need for their involvement as advocates for their children," he says, "but they need schools to provide good information and more tools – from homework hot lines to [guidance on] how to help their child get into college."
The report, which was released last Thursday, is aimed at bringing the voices of the 25 million parents of high-schoolers into the dialogue on education reform.
Research shows a correlation between parental involvement and academic success, and young people themselves see the need for it: 71 percent of high school dropouts said better communication between schools and parents was one key to keeping students in school, according to the landmark 2006 "Silent Epidemic" study by Civic Enterprises. According to that study, nearly half said the school did not contact them or their parents when they were absent or dropping out.
---