Three states eye bold high school reforms
Among the potential changes: college at 16, teacher-run schools, and state exams with assignments.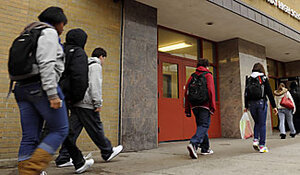 Mary Knox Merrill/Staff
Imagine if students could choose to leave high school as early as age 16 – not to drop out, but because they're ready for college or career training.
New Hampshire is considering changing its system to allow students to do just that. Many teens would be motivated to work harder rather than float through high school, supporters of the idea say. After passing a state board exam, they could take demanding college-prep courses or enroll in community college. Those who didn't pass could get help in their problem areas and then try again.
Redefining high school is a controversial idea. And it's just one part of a comprehensive set of education reforms that the New Commission on the Skills of the American Workforce is urging in order to prepare workers to be competitive in the 21st-century global economy.
Now, three states – Massachusetts, Utah, and New Hampshire – have agreed to pioneer some of those proposals. If they succeed, backers say, they could build support around the country for radical changes to an education structure that still looks largely as it did more than a century ago.
These states "see clearly that the age of incremental change has not been working, [and they] are working to create new systems that will produce vastly better results," says Marc Tucker, cochair of the commission, a project of the National Center on Education and the Economy.
---