From woolly mammoth hair, the beast's genetic map is born
Scientists have sequenced most of the genome of a creature that vanished from Earth about 4,000 years ago.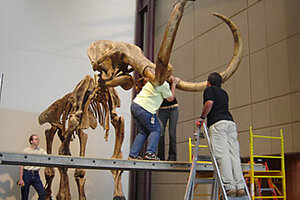 Dinesh Ramde/AP/File
Woolly mammoths lumbered for more than 100,000 years across northern North America and Eurasia. By 2,000 BC, the behemoths had vanished, falling to human hunters and changing climate.
Now comes news that scientists have sequenced nearly the entire woolly mammoth genome, using genetic material in hair taken from long-frozen mammoth carcasses unearthed in Siberia. The effort marks the first genome-scale sequencing of an extinct animal's DNA, which carries the basic instructions that determine an organism's type, development, and function.
The results are yielding insights into the mammoth's relationship to modern elephants. The scientists are also mining the data for more detail on what contributed to the beasts' extinction, as well as looking for the genetic basis for the species' remarkable adaptation to cold climates.
"It's fantastic that it's been done," says Hendrik Poinar, an evolutionary geneticist at McMaster University in Hamilton, Ontario. He led a team that in 2005 reported having sequenced a much smaller amount of mammoth DNA than the new results involve.
So far, the oldest reproducible bits of DNA date back 600,000 to 700,000 years and come from plants and insects trapped beneath Greenland's icecap, says Dr. Poinar. The latest results from mammoths, he says, bring the day closer when scientists can look specifically "at what made a mammoth a mammoth. With additional mammoth samples that span hundreds of thousands of years, you can go look for specific changes" that represent turning points as the animals adapted to changing conditions.
---