Inside the Monitor, a culture of camaraderie – and a shared mission
Staff parties, shibboleths, and a dedication to being a 'real newspaper.'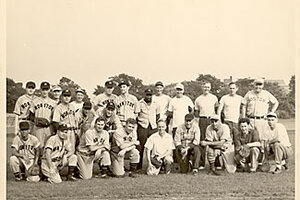 the Christian science monitor/archive
Way back, long before there were Google-driven page views to be concerned about, there was the legend of the "passed-on mules."
For decades you could get a laugh in the newsroom by mentioning the World War I battlefield littered with them. The phrase often appeared in articles about The Christian Science Monitor and its preference for saying that people "passed on" as more precise than "died."
The mules were traced to a piece from behind German lines about a battlefield littered with "passed-on horses." This was sent from one delighted staffer to another – but never considered for publication.
What was being considered was how to be a "real newspaper," as intended, while being published by a church. By the time Franklin Roosevelt passed on in 1945, quotations were published about his "death." Soon the paper carried stories about others who had "died."
This is just one way in which the Monitor – enigmatic to the mass market, often subject to what publishing types call "brand resistance" – has tried to look like a real paper as well as be one. It has always reported the bitter and the sweet of human existence. It has always stressed efforts, great and small, to make things better for humanity and its planet. Those who put it together try to express its founding religion by publishing an excellent paper, reserving space for just one article on Christian Science each day. The goal is genuine accuracy.
---