A government-run auto industry?
The $15 billion draft bailout comes with strict conditions and immense federal oversight.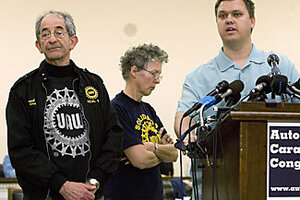 Larry Downing/Reuters
The proposed $15 billion rescue plan that drew lawmakers back to Capitol Hill this week gives Washington a strong hand in shaping the future of the US auto industry.
In sharp contrast to the relatively lax terms of the recent $700 billion bailout for the financial services industry, the auto rescue plan sets up a level of government oversight and control not seen since World War II.
The draft plan Democratic leaders sent to the White House this week sets up a two-stage process loosely tied to the timetable of the outgoing and incoming presidential administrations.
It allows the Bush administration to launch the rescue effort, but leaves key decisions about the scale and scope of the overhaul to the incoming Obama administration.
While the plan allows cash to begin flowing to struggling auto companies as early as next week, a long-term restructuring, including any sacrifices to be made by various stakeholders, is put off until March 31.
At the heart of the overhaul is a controlling role for a presidential appointee, quickly dubbed "car czar." This position – which is not expected to require Senate confirmation – is tasked with authorizing bridge loans and setting benchmarks for measuring progress.
In exchange for bridge loans, the auto industry would give government an ownership stake, or warrants for company stock, and control over the terms of retrenchment.
In a bid to deflect criticism that automakers will keep coming back for new loans, Democratic leaders negotiating the plan with the White House say Congress will insist the industry demonstrate accountability and viability.
---