California running out of money
A $28 billion budget shortfall through 2010 could start to pinch next week.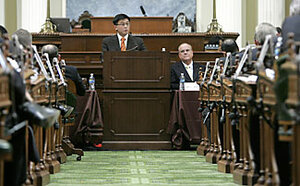 Rich Pedroncelli/AP
California lawmakers just got a Henry Paulson-like ultimatum from state officials: If they don't act, the state could be forced to suspend road, bridge, and other public-works projects as early as next week. Come March, California will be out of cash for even day-to-day operations.
A confluence of the national recession and years of legislative budget games is squeezing the Golden State as never before. Although it's not the largest budget gap the state has ever faced, this time it will be harder for California to get help from private lenders. Standard & Poor's now ranks it lower than any other state except Louisiana, which shares the same rating.
The question is: Will lawmakers finally make the tough budget decisions they've put off for so long?
"Because California does have a perennial budget crisis, it's very easy to fall into the 'boy who cried wolf' syndrome," says Dan Schnur, director of the Jesse M. Unruh Institute of Politics at the University of Southern California. "This time the sky is really falling."
---