For news industry, troubles only accelerate
The Tribune Company's bankruptcy may signal a trend toward a new kind of newspaper journalism.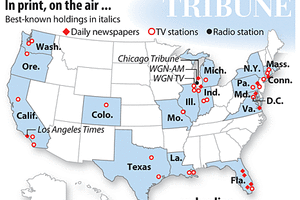 SOURCE: Tribune Co. /© 2008 MCT
The Tribune Co.'s move into bankruptcy this week is the most prominent signal – but just one of many – that a tumultuous revolution in the news industry is accelerating.
It's a predicament similar to that of the US auto industry.
A long reliable business model is under threat. For newspapers, it's because consumers are migrating increasingly to the free content zone called the Internet, while traditional revenue from ads and other sources is sagging. Then come some unexpectedly sharp economic forces that have also hit car manufacturers: a recession, a credit crunch, and rising costs for raw materials.
One difference, ironically, is that the media troubles are getting a lot less media attention than Detroit's bailout bid. But they are every bit as real.
•The New York Times Co., following a road traveled by the carmakers, now sports a "below investment grade" credit rating from Standard & Poor's.
•The Newark Star Ledger is cutting its staff nearly in half – headlining an industrywide wave of downsizing.
•From broadcast to book publishing, other media companies are retrenching in tandem with newspapers.
Few expect newspapers, any more than cars, to suddenly disappear. But an already difficult industry transition now looks harder. More bankruptcies seem likely, and some papers will simply shut their doors.
---