Housing: the key to economic revival?
The next bailout could focus on homeowners headed for default.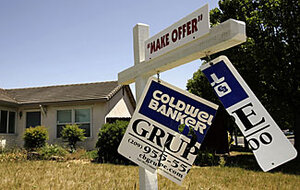 Shannon Stapleton/Reuters
Momentum is building for the next bailout – not one targeted at big corporations but at the lowly borrower at risk of foreclosure.
The reason is that mortgage-relief measures undertaken in the past year have failed to stem a wave of loan defaults, and those defaults continue to play a central role in the current economic downturn.
The problem reached a stark milestone last week, as the Mortgage Bankers Association reported that 1 in 10 mortgage holders is either in foreclosure or at least a month late on payments.
President-elect Obama, the Democratic-controlled Congress, and the independent Federal Reserve are all considering new ways to stabilize the housing market.
Although economists don't see easy fixes, many say that reviving the economy now hinges not just on bank or auto rescues, not just on a broad new stimulus package from Washington, but also on targeted policies that give a boost to individual homeowners or home buyers.
"Policy steps should include foreclosure mitigation," says Mark Zandi, chief economist at Moody's Economy.com in West Chester, Pa. "It certainly helps people more directly than giving banks equity infusions."
And by helping to stabilize the housing market, such an effort should help restore order in the banking system and the broader economy, he says.
---