For Obama, split looms over education reform
His pick for Education secretary, Chicago's Arne Duncan, faces a divide among Democrats.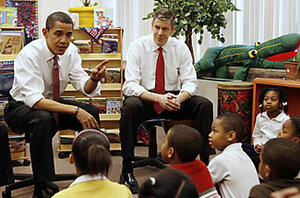 jeff haynes/reuters
With the selection of Arne Duncan as the next secretary of Education, President-elect Obama has chosen a diplomatic reformer. As head of Chicago's public schools since 2001, Mr. Duncan has tried some versions of merit pay and has opened more than 75 new schools, many of them charters, to replace low-performing schools. Such moves generated some tensions with the teachers unions, but he's been able to work collaboratively with them.
Duncan spoke of education as "the civil rights issue of our generation" at a press conference in a Chicago school on Tuesday. But how to do right by children on the low end of academic achievement – who are disproportionately from minority groups – is hotly debated, even among Democrats. His ability to bring people of differing views together will be tested when Congress weighs what to do with No Child Left Behind, the federal law governing much of elementary and secondary education that has been overdue for reauthorization since 2007.
"What remains to be seen is how [the new administration] will come down on accountability – on this question of what is the appropriate federal role in making school achievement transparent and [in] intervening in schools that aren't making the grade," says Michael Petrilli, a vice president at the Thomas B. Fordham Institute in Washington, a research group that supports standards and school choice. "That's really where the fault lines are."
---