Pursuit of Somali pirates to get hotter
UN allows antipiracy forces to chase them onto land, attack them by air. But Security Council seems unprepared to address the instability that makes Somalia a 'failed state.'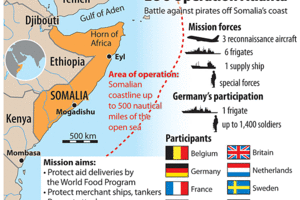 DPA
The United Nations Security Council has expanded the battle with pirates cruising the crucial shipping lanes off the coast of Somalia by authorizing action against them by air and on land.
The United States hails the step as a victory for global trade and order. Still, the new measures fall short of addressing the root cause of piracy: instability and lawlessness that have racked Somalia for nearly two decades.
The Somalia-based pirates, who reportedly intercepted two more ships as the Security Council deliberated Tuesday, underscore the repercussions for the entire world when failed states go unaddressed – as was the case for the Al Qaeda-associated Islamists who operated in Somalia in the early 1990s.
The Security Council voted unanimously Tuesday to authorize countries conducting antipirate naval missions in the waters off Somalia – and that have the interim Somali government's express permission – to pursue pirates onto Somali territory. That authorization will last one year.
At the same time, US Secretary of State Condoleezza Rice, who lobbied in person at the UN on behalf of the resolution, announced an American-led contact group on Somali piracy that aims to better coordinate antipiracy actions among countries, international organizations, and the commercial shipping industry. Secretary Rice, noting the lack of coordination among countries battling the pirates, told the council "our response has been less than the sum of its parts."
---