Wanted: More science and math teachers in the US
School officials hope financial and training incentives will help fill the need for 200,000 new teachers.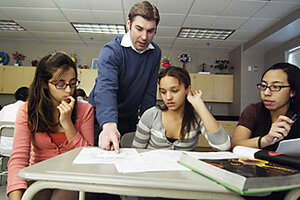 Sarah Beth Glicksteen/The Christian Science Monitor
Jeremy Kennefick and Geoffrey Gailey are both new science teachers, one a career-changer, the other fresh out of graduate school. Both are teaching in high-poverty districts, where the needs are greatest. And both are surrounded by a rare level of support – financial incentives, mentors, and groups of other new teachers to consult with as they grow in the profession.
It's no easy task to recruit people with proclivities for science into schools – and to keep them long enough to nurture a talent for teaching. But over the next decade, schools will need 200,000 or more new teachers in science and math, according to estimates by such groups as the Business-Higher Education Forum in Washington. Already, many districts face shortages: In at least 10 states, fewer than 6 out of 10 middle-school science teachers were certified when the Council of Chief School Officers compiled a report last year.
"We desperately need more qualified ... science and math teachers, because of retirement,... overcrowded classrooms ... and people teaching out of [their] field," says Angelo Collins, executive director of the Knowles Science Teaching Foundation (KSTF) in Moorestown, N.J., which offers fellowships for teachers in these fields.
---