With fewer jobs, fewer illegal immigrants
The US recession and stricter law enforcement are keeping many Hispanics from coming.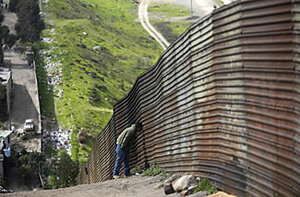 Dario Lopez-Mills/AP
The economic downturn – along with more aggressive enforcement – is reducing the flow of illegal immigrants to the United States.
Not only are fewer people – mostly Hispanics – slipping into the United States, they're getting fewer jobs. New data shows that Latino participation in the labor force – normally among the highest – has dropped along with a decline in new arrivals.
"The picture has definitely changed," says Randy Capps, a demographer at the Migration Policy Institute in Washington, though he cautions that it's too early to say whether the changes are permanent. "Unauthorized Hispanic immigrants are fairly responsive to job markets." [Editor's note: The original version misspelled Mr. Capps' name.]
Tougher enforcement and the construction of a new border fence may also be playing a role. The number of illegal aliens removed or returned home this year rose 20 percent compared with a year ago, according to a Department of Homeland Security statement. There was also a 27 percent increase in arrests made while raiding workplaces by the US Immigration and Customs.
The Border Patrol, which added 6,000 agents since 2006, has seen a steady decline in the number of people it has caught trying to cross the border.
Exactly how far-reaching the current shifts in the Latino immigrant population are is unclear, and may turn on the extent of the recession and the immigration policies of the new administration.
Downturn hits Latinos hard
A recent report by the Pew Hispanic Center, a nonpartisan research group in Washington, found that the proportion of Latino immigrants employed or seeking work in the US fell for the first time since 2003. It declined from 72.4 percent in the last quarter of 2007 to 71.3 percent in the last quarter of 2008.
---