Obama said to pick a spy chief with little intelligence experience
But defenders of Panetta say he could bring valuable management skills to the job.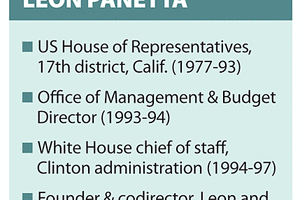 SOURCES: Marquis Who's Who, news reports, Panetta Institute/Rich Clabaugh/STAFF
Leon Panetta, reported to be President-elect Obama's pick to head the Central Intelligence Agency, has little hands-on intelligence experience – a reality that may make it hard for him to win the trust of operatives inside an agency known to be unwelcoming to outsiders.
But despite concerns that Mr. Panetta's résumé – ex-congressman from California, budget guru of the Clinton White House, and former Clinton chief of staff – does not qualify him to lead America's most prominent intelligence agency, some analysts say what the CIA needs most is a leader who can represent the agency's interests to the president.
Some spies, they point out, have made poor spymasters.
One former spy who recently headed the agency, Porter Goss, left under a cloud in 2006, amid plummeting morale and dissension in the ranks over Mr. Goss's efforts to reform the CIA.
"Being one of them isn't good enough," says a former CIA analyst. "Goss was basically one of them, but the agency hated him because he tried to tell the bureaucracy what to do."
---