In video age, a rush to judgment?
Cellphone videos of a police killing in Oakland, Calif., spark outrage.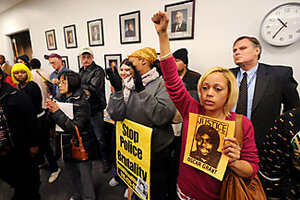 Noah Berger/AP
If a picture is worth a thousand words, the videos of a uniformed police officer shooting an unarmed man lying on his belly are worth, in the eyes of many Oakland residents, at least three: Arrest the cop.
The police killing of Oscar Grant III has drawn national attention and already sparked a riot last week in downtown Oakland. The young black man was in a group pulled off a train here early on New Year's Day by transit police responding to reports of rowdy passengers.
Public hearings this past weekend revealed escalating anger with officials overseeing the investigations into the incident. The district attorney has projected that charges, if any, could take another 10 days. Community leaders say that pace is unacceptable given the "conclusive" footage.
But in a time when cellphone video is demanding greater police accountability, sometimes eyewitness video can also make the story more complex.
A new study calls into question the entire notion of a "conclusive video." Researchers interviewed hundreds of people about a tape that eight Supreme Court justices deemed so incontrovertible that it formed the basis of a summary judgment. It turned out, however, that many people interpreted the footage quite differently.
"If there's one lesson in this [study], it should be that we don't make the mistake of thinking that the tape speaks for itself," says Dan Kahan, a Yale law professor and lead author of the study to be published in the forthcoming Harvard Law Review.
---