How will history judge Bush?
Never in polls has one president experienced such highs and lows in job approval.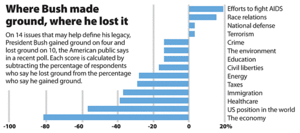 SOURCE: Gallup Poll of 3,037 adults, conducted by telephone Jan. 2-4./Rich Clabaugh/STAFF
It was December 2002 and war with Iraq was looming. In a meet-and-greet with new White House reporters in the Oval Office, President Bush was asked about his legacy.
He shrugged with unconcern. By the time history judges his presidency, he will be long gone, he said. Besides, Mr. Bush added, everyone who writes history is prejudiced. "Either they voted for me or against me, but they have an opinion," the president said in off-the-record remarks, now released with permission from his press office.
Over the years, Bush has often expressed indifference to the way history books will treat him. But that side of the president – the side that eschews introspection – is matched by another dimension: one that relishes bold moves and that views his presidency as a launch point for initiatives he hopes will extend long beyond his time in office.
Whether it's his single-minded determination to defeat Islamic extremism in the wake of 9/11, the unprecedented federal foray into education reform, or the biggest expansion of Medicare since its creation, Bush has made his mark on history.
He also leaves office with the economy on the brink of its deepest crisis in 80 years, and, fairly or not, that could be his biggest legacy. Whether Bush goes down as the next Herbert Hoover – a concern mooted by no less than Vice President Cheney – may well be determined by his successor, Barack Obama.
---