Will US airlines make a turnaround in 2009?
Their cost-cutting in recent years could pay off. But longtime problems remain.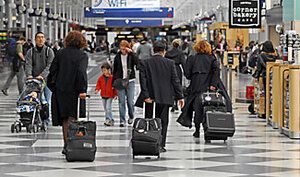 Alfredo Sosa/Staff/File
America's aviation system was once the envy of the world, with its cutting-edge technology and stringent safety standards.
Now it's at best a "B" player, and American travelers have become accustomed to aging, crowded planes; regular delays; and indifferent customer service.
But the advent of a new administration in Washington is fueling hope that some underlying causes of the aviation malaise can be addressed – from the archaic air-traffic control system to the congested airport runways.
The incoming Obama administration is expected to dedicate at least $5 billion in its stimulus package to upgrading airports and other aviation-related projects. Congressional leaders have also pledged to move quickly to pass a long-delayed reauthorization of funding for the Federal Aviation Administration, which would include money to upgrade the air-traffic control system.
But even the optimists warn it will take years for the US aviation industry to recover its status as a world leader, and they caution that the airlines' problems cannot be addressed alone. They're calling on the Obama team to take a significant step back and address airline issues within a larger context.
"No piecemeal solution is going to work," says Robert Mann of R.W. Mann & Co., an aviation consulting company in Port Washington, N.Y. "Somebody has to really step back and take a big-picture view: all the disciplines – environmental, economic, and transportation and energy policy – together. If things are done in a vacuum, they will absolutely, positively cripple some segment. "
---