Sorting out Guantánamo detainees
President Obama orders a thorough review of pending terror cases.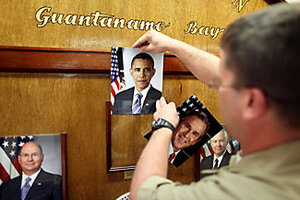 brennan linsley/ap
President Obama's pledge to close the terror prison camp at Guantánamo Bay, Cuba, is being hailed as a major step toward restoring world opinion of the United States as a champion of human rights and the rule of law.
But it remains unclear to what extent Mr. Obama will make a clean break from controversial policies in the Bush administration's global war on terror.
Obama administration officials agree that certain Al Qaeda suspects at Guantánamo should be tried in federal or regular military courts rather than the special military commissions set up under President Bush. And they agree that many of the remaining 245 detainees can be returned to their home countries for release or further detention.
But there is less agreement over what to do with a potential third category of detainees – an uncertain number of terror suspects whose cases do not lend themselves to prosecution in civilian or military courts but who are viewed as too dangerous to release.
In one of his first acts in office, the new president asked military judges at Guantánamo to halt ongoing commission trials pending a top-to-bottom policy review of the detention facility and the terror tribunals.
Some experts urge imposition of a bright-line policy to force the US government to either charge detainees with a crime or release them. They suggest that creating a third category of detainees deemed too dangerous to release would perpetuate Mr. Bush's policy authorizing the indefinite detention without charge of persons he deemed "enemy combatants."
---