As property crimes increase, more neighbors are on patrol
Armed with cellphones, flashlights, and Twitter posts, they can make a positive difference.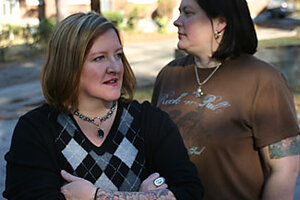 patrik jonsson/the Christian Science Monitor
It's not unusual for Jennifer Litkowiec to have problems with her husband's off-the-wall ideas, but this one took the cake.
Hispanic gangs had seeped into the couple's quiet corner of the working-class town of Cudahy, Wis., just south of Milwaukee, stealing garage door openers and returning later to score the contents.
So what was Jason Litkowiec's plan? Shine a light on the night. "I finally had enough," he says.
Against his wife's loud protestations, the young steamfitter joined a dozen other neighborhood men and set up the Rosewood night patrol.
Armed with nothing but flashlights and cellphones, the group followed suspicious cars and even set up an impromptu sting when a neighbor left town and forgot to close his garage door. They called in police to arrest the suspects after a brief chase.
High foreclosure rates, a spike in brazen break-ins, and slashed police budgets are causing turmoil in America's transitioning urban communities, auguring what Atlanta anticrime activist Larry Ely calls an "urban war."
So far, this is a largely unarmed conflict defined by nighttime jogger patrols with flashing headlamps, unofficial block patrols with cop-like "beats," and neighborhood all-Twitter alarms – short text messages dubbed "BOLO" or "be on the lookout" when something potentially dangerous or illegal happens.
---