Nuclear waste dogs US energy policy
Yucca Mountain was supposed to be where the highly toxic material was sent. But Obama's energy budget leaves it out.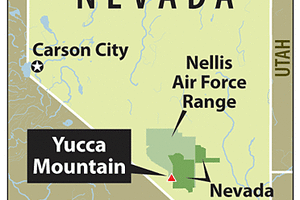 Rich Clabaugh/STAFF
President Obama's proposed budget for fiscal year 2010 all but sinks prospects to store America's nuclear waste at Nevada's Yucca Mountain.
But it leaves wide open the role of nuclear power in building "a new economy powered by clean and secure energy" – and the question of what to do with existing, highly toxic nuclear waste.
"The nation has already accumulated 60,000 metric tons of spent nuclear waste, and the material is going to have to be isolated from the environment for hundreds and thousands of years," says Edwin Lyman, senior scientist at the Union of Concerned Scientists in Washington.
"There's no way to make the waste disappear. No matter what the French say, there's no alternative to having a mined geological repository," he says. The challenge is to find one that is technically and politically acceptable.
The president, who campaigned against the Yucca Mountain site, could have withdrawn the license application, currently before the Nuclear Regulatory Commission (NRC).
Instead, he opted to scale back funding to cover only those costs "necessary to answer inquiries" from the NRC.
Moreover, the budget document released by the White House last week makes no mention of nuclear power as an element in a transition to a low-carbon economy. Instead, it cites the need for increased support for solar, biomass, geothermal, wind, and low-carbon-emission coal power.
---