US Supreme Court holds to narrow interpretation of the Voting Rights Act
Critics say the ruling on 'crossover' districts could reduce the political clout of minorities.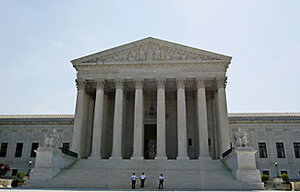 Charles Dharapak/AP/File
The federal Voting Rights Act does not authorize vote dilution lawsuits in voting districts in which a particular racial or ethnic group comprises less than 50 percent of the voting age population.
In a 5 to 4 decision announced on Monday, the US Supreme Court rejected a claim that so-called minority crossover districts qualify for protection under Section 2 of the Voting Rights Act of 1965 (VRA). Instead, the court's conservative wing embraced a narrow view of the law.
Crossover districts are those in which a cohesive minority voting population can elect candidates of its choice by forming a coalition with cross-over votes from whites or other non-minority voters.
The case is important because it establishes ground rules that will apply nationwide during the redrawing of voting districts following the 2010 census. It could result in a reduction of minority districts by encouraging district drafters to pack traditional minority districts with more than 50 percent minority voters, rather than aiming for widespread distribution across several voting districts.
The decision comes in a case challenging the creation of North Carolina's House District 18. State officials tasked with redrawing North Carolina's voting map found themselves caught between two competing laws.
The VRA mandates that new districts may not be drawn in such a way as to dilute the existing political clout of minority voters in minority voting districts. But North Carolina has a law requiring that counties not be split up within voting districts.
State officials discovered that if they adhered to the "whole county provision" of state law, the minority voting age population in District 18 would be reduced from 39 percent to 35 percent.
---