Work on 'veiled reality' earns French physicist $1.4 million award
Prestigious Templeton Prize recognizes his theory that a new reality lurks behind matter and other observable phenomena.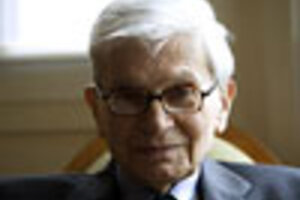 Charles Platiau/Reuters
For a young Frenchman, 1939 was a good time to think about alternative realities.
So it was that, on the eve of World War II, 17-year-old Bernard d'Espagnat first considered the idea that physical reality as it had been studied since the time of Sir Isaac Newton – consisting of measurable objects, light, gravity, and the like – may not be what it seems.
He would spend the next seven decades plumbing the philosophical implications of each new development in physics: What insights can science reveal about reality? About space? About time? He wrote 20 books, countless papers and articles, and is best known for positing that matter everywhere is entangled in a "veiled reality" that exists beneath time, space, and energy.
The University of Paris-Orsay theoretical physicist and philosopher of science is the 2009 winner of the Templeton Prize, an annual award of $1.4 million that "honors a living person who has made an exceptional contribution affirming life's spiritual dimension, whether through insight, discovery, or practical works." The Templeton Foundation announced the award Monday in Paris.
Including Dr. d'Espagnat, five of the past 10 Templeton winners have been physicists or have had strong connections to the discipline. Other recent winners include a Cambridge University mathematician and an applied math professor at the University of Cape Town in South Africa.
---
Follow Stories Like This
Get the Monitor stories you care about delivered to your inbox.