California's voters get next say in budget battles
They'll consider six ballot measures that address budget reform and a new $8 billion shortfall.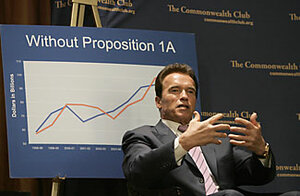 Robert Galbraith/Reuters
California Gov. Arnold Schwarzenegger apparently has taken to heart the adage that begins, "If at first you don't succeed...."
He is trying again to persuade state voters to embrace his vision for budget reform, via a set of six ballot initiatives that address both a new $8 billion revenue shortfall and the unwieldy annual budgeting process.
The measures, which come before voters May 19, may seal Governor Schwarzenegger's legacy, whether as a reformer who repaired a broken government or as a politician of great bombast but little consequence.
The package includes temporary tax hikes as well as cuts in government spending, a way to borrow against the state's lottery, a temporary shift of funds away from preschoolers and the mentally ill, and a way to clamp the salaries of elected officials during future deficits. So far, he's winning praise for his effort, if not for his suggested solutions.
"This is the best he has done in the past five years as governor and really confronts the state's budget crises," says Tony Quinn, a Sacramento-based political analyst and coauthor of the so-called California Target Book, a nonpartisan guide that tracks state political races. "He is acting the very best as governor in confronting real problems. He is not playing Hollywood anymore. When he goes out and talks about this stuff, he's not being bombastic.... He is talking in much more serious tones."
Schwarzenegger, a Republican, took a drubbing the last time he asked voters to approve his ideas for reforming state government. In November 2005, Californians rejected four ballot initiatives the governor had backed, calling into question whether he could in fact fulfill promises to do a better job leading the state than did ousted Gov. Gary Davis, from whom Schwarzenegger seized the reins two years earlier.
---