Iowa's top court brings gay marriage to America's heartland
The unanimous ruling held that the state's same-sex marriage ban was unconstitutional.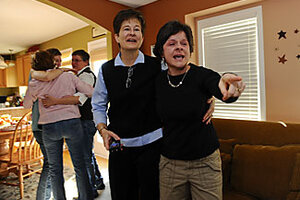 David K. Purdy/AP
Iowa's top court legalized same-sex marriage Friday, giving advocates a victory beyond the liberal coastal states into the more conservative American interior.
The supreme court justices drew explicit parallels to civil rights struggles by blacks and women, holding that the state's ban on same-sex marriage was a violation of the equality promised in the Iowa constitution.
"If a simple showing that discrimination is traditional satisfies equal protection, previous successful equal protection challenges of invidious racial and gender classifications would have failed," the court said in its ruling.
This past week, legislators in both Vermont and New Hampshire have passed bills legalizing gay marriage, as did Sweden's parliament, making it the fifth European country to allow it.
Both sides of the same-sex marriage controversy can claim victories in various state courts. But this heartland ruling highlights the problems opponents have had making a secular case before courts of law, causing some to shift their focus more to defending religious protections.
"The strongest argument for traditional marriage has always been anchored in faith," says Douglas Kmiec, a law professor at California's Pepperdine University and an opponent of same-sex marriage. "The issue is one that affects every part of the country and it is a topic that requires the balancing of claims of equality and religious freedom," he adds.
He argues that legislatures need to carve out explicit religious exemptions. These would ensure that legal protections for gay equality do not eventually impact churches' tax benefits, hiring practices, and public activities. He and others have also mooted removing the state from marriage altogether.
---