Students in urban schools get big boost from pioneering tutor program
Comprehension and other critical skills improve dramatically with one-on-one help from Experience Corps' volunteers, a new study shows.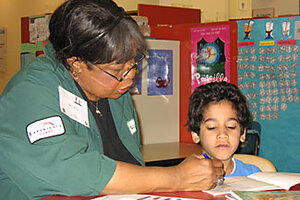 Courtesy of Generations Inc.
Nearly a dozen children bustle into the classroom on a Monday morning, each slipping into a chair next to a waiting older adult, sharing a smile and greetings. The pairs quickly get to work, diving into the texts of their current books.
Karla Santana reads aloud to her tutor, Pat Patricelli, from "The Schoolyard Mystery." The two have worked together since fall, and the once-struggling fourth- grader now proclaims that she likes to read "because I learn things and it is fun."
Blackstone Elementary School in Boston is in its third year of working with volunteers from Experience Corps (EC), a program that engages adults 55 and over in tutoring children who lag far behind in reading. Founded in 1995, Experience Corps has grown to serve more than 20,000 children in 23 US cities.
A two-year study released today by researchers at Washington University in St. Louis finds that students with Experience Corps tutors make 60 percent more progress in critical reading skills, including comprehension, than similar children not in the program.
Perhaps even more remarkably, the results are the same regardless of gender, ethnicity, grade level, classroom behavior, or English proficiency.
"Given how hard it is to improve reading of low-proficiency students, I was really impressed with the findings," says Nancy Morrow-Howell, independent lead researcher from the university. "The numbers told us that Experience Corps has statistically significant and substantially important effects on reading."
---