When Mt. Redoubt erupts, these scientists are on the job
For them, 'volcano monitoring' is no punch line; it's an important part of keeping Alaska safe.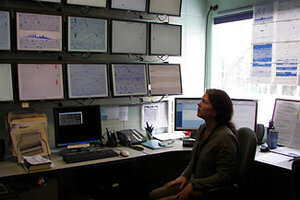 Yereth Rosen
Deep in the recesses of a low-slung, cinder-block building, scientists are working around the clock to keep pace with the volcano that for weeks has wreaked havoc on air travel, oil production, and air quality.
The scientists at the Alaska Volcano Observatory (AVO) have been on high alert since mid-January, when Mt. Redoubt started rumbling. On March 22, the 10,197-foot-tall volcano exploded with an ash cloud that spewed nearly 10 miles into the air. Since then, it has erupted about 20 times, belching plumes of gritty ash and steam and showers of rocks, and triggering vast mudslides from quick-thawed ice and snow.
Within the AVO's operations room, two banks of computer screens on the wall display seismic and meteorological data, which the scientists use to forecast future explosions and ash-fall patterns. Real-time computer images stream in from remote cameras posted on the mountain. Taped to the window are computer printouts of seismic recordings: Low-level "drumbeat" earthquakes are indicated by shaky lines; big eruptions are marked by dark blue spots where the seismic needle jerked violently. Scientists field calls from colleagues around the world, from government officials, from reporters seeking to gauge conditions, and, sometimes, from the general public.
"I got a call the other day: 'Someone was running into [a] bar and just said Redoubt exploded again!' " said AVO geologist Kate Bull.
Between explosions, scientists who work at the observatory – partly housed in a former college dorm on the tree-lined campus of Alaska Pacific University here – have been ferried via plane or helicopter to the volcano itself, to bring back ash and pumice samples for laboratory analysis, check conditions firsthand, and, if necessary, repair eruption-damaged sensors.
---