New York to introduce same-sex marriage bill
After Iowa and Vermont legalized gay marriage, and with bills also pending in Maine and New Hampshire, are gay rights gaining momentum?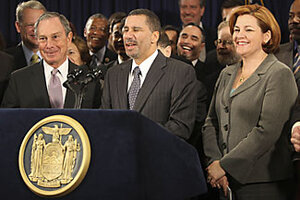 Mary Altaffer/AP
In a relatively short time, the number of states giving gay couples the right to marry doubled from two to four. On Thursday, New York put in a bid to become the fifth.
Gov. David Paterson announced his determination to shepherd a "marriage equality" bill through the state legislature this year, in order to build on the momentum generated earlier this month by the legalization of gay marriage in Iowa and Vermont.
"For too long, the gay and lesbian communities have been told their rights and freedoms have to wait," the Democratic governor said Thursday, framing the issue as a civil rights issue as compelling as the 19th century battle for abolition. "This is the real reform, and the time has come to act.... The time has come to bring marriage equality to the State of New York."
Of the states where same-sex marriage is legal, only Vermont adopted it through the legislative process. In Iowa, Massachusetts, and Connecticut, the courts have ruled that it could not be prohibited under their constitutions.
During the past decade, state legislatures have sided overwhelmingly with those who oppose gay marriage. Forty-four states have enacted laws that define marriage as between a man and a woman, known often as Defense of Marriage Acts (DOMAs). Thirty others have amended their constitutions to define marriage in a similar way.
---