Merchant marine cadets learn real-life lessons about piracy
How to deal with attackers in order to protect the ship, its cargo, and its crew is on everybody's mind.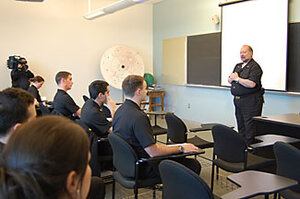 Bridget Huber/The Christian Science Monitor
No one doodles in Capt. Joseph Murphy's maritime security class. No one sends text messages from their cellphones. The students – well-scrubbed, uniformed Massachusetts Maritime Academy (MMA) cadets – sit ramrod straight and listen intently. Today's topic: Antipiracy techniques.
It's a subject close to the students and their instructor. This is the first class meeting since the dramatic rescue of Richard Phillips, captain of the Maersk Alabama and a graduate of the academy. Captain Murphy's son, Shane, a 2001 MMA grad, was the ship's first mate, and he spoke to the class just two weeks before the hijacking.
For mariners-in-training and the institutions that educate them, the Maersk Alabama incident brings the issue of piracy home. "Now this class just takes on a whole new meaning," says Amanda Wayne, a senior at the academy.
Most of Ms. Wayne's classmates will go on to careers as merchant marines. They will man massive ships carrying tens of millions of dollars worth of cargo. They will traverse waters where armed pirates lurk. In most cases, they'll do so as part of an unarmed crew of just 20 or so mariners.
Merchant marines' antipiracy training begins in classrooms like Murphy's and continues throughout their careers through their unions and employers. At all levels, the approach they learn can be summed up succinctly: Detect, deter, avoid.
"The best battle is the battle never fought," says Murphy before introducing a guest speaker, Capt. James Staples, a friend and classmate of Captain Phillips, who frequently works in the Gulf of Aden.
---