Katrina trial: New Orleans' truth commission
Six hurricane survivors sue the US Army Corps of Engineers, as many city residents still try to understand the forces behind the storm's aftermath.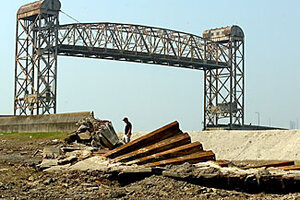 Melanie Stetson Freeman/Staff/FILE
Lorraine Washington left her still-wrecked house in New Orleans East on Tuesday to seek the answer to a question that has plagued her every day since hurricane Katrina sank the Crescent City under a wall of water: Why?
Her destination: Federal district court, where six plaintiffs are suing the US Army Corps of Engineers over the creation and maintenance of the Mississippi River Gulf Outlet ("Mr. GO"), a shipping channel that they say introduced fatal risk to a fragile levee-protection system. The government argues that the magnitude of the storm, by itself, caused the flooding of New Orleans, the deaths of more than 700 city residents, and $90 billion of damage across the region.
"I have to believe that justice is going to be received, that we're going to be made whole again," says Ms. Washington, an unemployed government clerk. She says she attended the trial in an attempt to finally understand the physical, geological, and political forces that created not the storm, but its horrid aftermath.
A win by the plaintiffs – six hurricane survivors, including a local TV news anchor and his wife – in this "first real Katrina trial" could pave the way for a class-action lawsuit against the Corps, as well as set the tone for future US coastal policy.
---