What's behind Obama's big shift
He is overseeing the boldest expansion of government in a generation. Is it a 'new pragmatism' right for the times or dangerous overreach by a young president?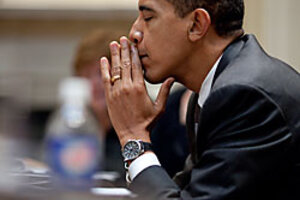 Pete Souza/ The White House
On the basketball court, Barack Obama likes the old "up and under" move. When he has the ball, he'll fake one way, wait for the guy who's covering him to jump, then duck under him.
That observation from Denver sportscaster Vic Lombardi – who lucked into a game of pickup hoops last year with the future leader of the free world – is too juicy to pass up as a possible metaphor for the new president's governing philosophy: Barack Obama likes to keep people guessing.
Throughout his presidential campaign, Mr. Obama refused to embrace an ideology (though as a senator, he was a safe liberal vote). He called himself a "pragmatist," with an eye toward "what works." In January, when Obama introduced the new chairman of the Democratic National Committee, Tim Kaine, he tiptoed a step further, saying that both he and the Virginia governor share a "pragmatic, progressive philosophy."
Now, almost 100 days into his presidency, Obama's track record reveals an ambitious leader, presiding over a massive expansion
of government spending and the boldest intervention of government into the affairs of business since President Truman tried to nationalize the steel industry in 1952.
But Obama's actions in the name of saving the American economy from collapse don't tell the whole story. In fact, says Bruce Bartlett, a domestic policy adviser in the Reagan White House, Republican John McCain would be "doing pretty much exactly the same thing" if he had been elected president last November.
---