Americans at ballparks react to Obama's first 100 days
From Angel Stadium in southern California to Fenway Park in Boston, fans laud and lampoon the president's early initiatives.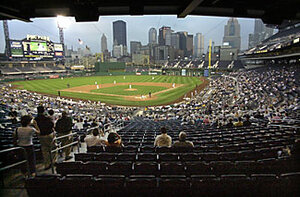 Keith Srakocic/AP
The Monitor sent reporters to baseball stadiums to ask people to take part in another national pastime – assessing a sitting president. Here are their critiques of Barack Obama's first months in office.
Fenway Park / Boston
RANDY LOOK, a retired high school physics teacher from Bowdoinham, Maine:
"He's optimistic. He's got charisma. He appears willing to say when he screws up. [He's thoughtful], and would have moved faster if Republicans hadn't been blocking the stimulus package. We are going to have alternative energy and a solid education plan. I think he has about a 75 percent chance of having about 75 percent of things happen."
DAVID LITTLEFIELD, owner of the 'sausage guy' cart:
"I think he's doing great, given all the things that are going on – war, economy, the state of affairs left behind for him to deal with. I hope that he will make the country a more equitable system. Everyone should be able to make as much money as they want to but should [also] bring people up with them and not use people to get there. There hasn't been a rising tide for all boats for a few years now.
He may have had some youthful faux pas, but the country needs to see a White House with a swing set in the back and a young family concerned about them."
---