Science takes aim at the swine flu
The world's response to the outbreak shows progress and problems: Scientists have more tools, but early detection remains difficult in some places.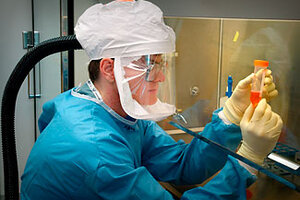 James Gathany/CDC/Handout/REUTERS
Governments confronting a new strain of swine flu from Mexico have an unprecedented set of scientific tools to help them. The result is steady improvement in dealing with outbreaks like the current one.
Yet experts say a lack of clear communication in Mexico about the status of the outbreak and what people could do to protect themselves was perhaps a major factor in how the strain spread throughout the country and the world.
In the US, public-health officials said Monday they have identified 40 cases, with one person hospitalized. But "things are working well, from what I can see," says Peter Hotez, who heads the department of microbiology, immunology, and tropical medicine at George Washington University in Washington.
The faster speed of communications helps: Word of a problem gets out much more quickly than it did 20 years ago. But science, too, has improved its ability to identify an illness's origins, assess its susceptibility to existing vaccines, and model the trajectory the outbreak could take, experts say.
Researchers say they have increased their capacity to recognize and understand the nature of the biological agents involved. Even six years ago in the case of SARS, scientists needed only a relatively short time – six weeks – to characterize the agent involved, says Myron Cohen, director of the University of North Carolina's Institute of Global Health and Infectious Diseases. And SARS was something no one had seen before. Previously, that process might have taken years.
---