High-schoolers have made little progress since the 1970s, study says
Younger students have made some encouraging gains in math, but the lack of improvement among older students raises questions about recent education reforms.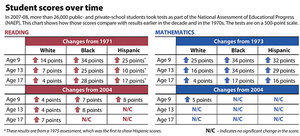 SOURCE: 'The Nation's Report Card: NAEP 2008 Trends in Academic Progress', US Department of Education/RICH CLABAUGH/STAFF
American 17-year-olds aren't performing any better in reading and math than their bell-bottom-clad counterparts in the early 1970s. That's one conclusion from the latest round of a national test tracking long-term educational trends.
On the positive side, the test shows that younger students – 9- and 13-year-olds – are making significant gains. In addition, racial differences in scores have narrowed for all three age groups over the past 30-plus years.
But overall, the mixed results parallel other indicators of how challenging it is to raise academic achievement.
The flat-line trend for 17-year-olds should sound an alarm, say advocates of high school reform. "If high schools were cellphones, they'd be considered in a dead zone," says Bob Wise, president of the Alliance for Excellent Education, a Washington advocacy group. "We've got to finally start addressing high schools in the same way that we addressed elementary schools.... This is the jumping-off place for college or the modern workplace, and our kids unfortunately are performing at [1970s] levels."
More than 26,000 students took the tests for the National Assessment of Educational Progress (NAEP) – a project overseen by the research wing of the US Department of Education. The results were released Tuesday. As part of the NAEP project, reading scores have been tracked since 1971 and math since 1973.
In the new report, long-term improvements were largest for younger age groups in math. Nine-year-olds gained 24 points since 1973, and 13-year-olds gained 15 points. In reading, the gains were 12 points and 4 points respectively since 1971. That's on a 500-point scale, which NAEP breaks into 50-point intervals to describe the corresponding skill level.
---