On swine flu, officials strive to strike right note of caution
First US death reported in Texas; two schools shuttered in New York.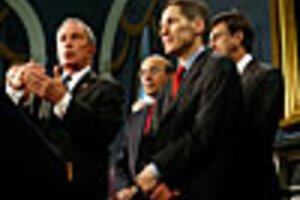 Shannon Stapleton/Reuters
With confirmation of the first death from swine flu in the United States, public-health officials are struggling to find the way to put preventive measures in place without fueling unnecessary fears.
The Centers for Disease Control and Prevention (CDC) Tuesday morning said a 23-month-old boy in Texas has died of swine flu. The child, who was Mexican, had traveled to the US for treatment. Four students in Delaware are also being tested for the virus. To date, authorities have confirmed 64 swine-flu cases in the United States, in five states.
President Obama said Tuesday he is monitoring the situation. The first confirmed swine-flu death indicates that "this is obviously a serious situation – serious enough to take the utmost precautions," he said. "My thoughts and prayers and deepest condolences go out to the family [of the Texas child], as well as those who are ill and recovering from this flu."
Most reported incidents of flu in the US have been mild so far compared with those in Mexico, where the health secretary said Monday that seven deaths have been confirmed and perhaps 150 more are suspected. Thousands have become ill. [Editor's note: The original text stated a higher number of deaths, which
Mexican officials have revised downward.]
In the US, the outbreak's epicenter is in New York, where health officials have confirmed 45 cases and suspect hundreds more. Two schools have been closed, and officials are considering closing a third.
Mayor Michael Bloomberg says the city is acting out of an abundance of caution, although he does expect to see other cases.
---