Recession and flu show borderless world
The flow of capital and travelers across international borders has accelerated in recent years, presenting new challenges.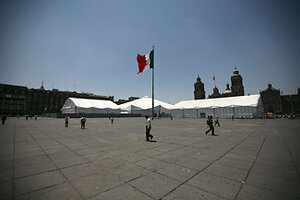 Eliana Aponte/REUTERS
First, it was toxic financial assets. Now, it is a new kind of flu virus. For many nations, the lesson learned may be the same: In today's interconnected world, borders offer only a false sense of security against modern varieties of contagion.
Last fall some governments, particularly in the less-developed world, thought their economies were decoupled from that of the US, and that they therefore might escape the effects of the US financial meltdown. For the most part, they were wrong.
Now authorities around the world are facing the question of whether to restrict travel or close borders to try to isolate themselves from the H1N1 virus, also known as swine flu. Given the ubiquity of modern air travel, and the course of the outbreak, hard restrictions just won't work, say experts in the US.
"There's no utility to closing the border," said secretary of Homeland Security Janet Napolitano on a Thursday webcast coproduced by the Centers for Disease Control and Prevention and the Department of Health and Human Services.
International cooperation required
Movement between nations needs to continue in part because items used to help fight the flu come from many places around the globe, say officials. Like the recession currently gripping the world, the H1N1 virus is a global problem, and fighting it is an international effort.
---