Final spacewalk leaves like-new Hubble ready for its final bow
Astronauts made all the needed repairs, giving the telescope five to 10 more years of life.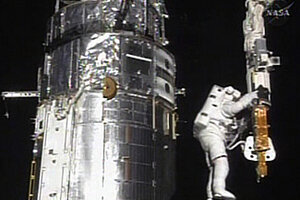 NASA TV/AP
The crew of the space shuttle Atlantis has returned the Hubble Space Telescope to preeminent status.
Five successful spacewalks on five consecutive days have repaired and refurbished one of the most revolutionary observatories in the history of astronomy.
It's a bittersweet moment for those on the ground as well as those on orbit. A successful release of Hubble tomorrow marks the beginning of the end for the venerable telescope – its final five to 10 year period of research before it is sent plummeting into the Pacific Ocean.
But what a five to 10 years it is expected to be.
"We're looking forward to several years of exciting work," says Preston Burch, the telescope project's program manager at the Goddard Space Flight Center in Greenbelt, Md.
Targets range from galaxies in the very young universe billions of light-years away to planets orbiting other stars in the Milky Way.
To accomplish this, Hubble now "has a full arsenal of instruments," says Jon Morse, who heads the astrophysics division of NASA's Science Mission Directorate.
---