New Orleans asks: 'What recession?'
After Katrina, the Big Easy is slowly attracting newcomers and rebuilding its economy.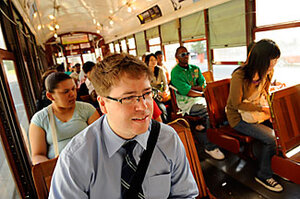 Mary Knox Merrill/The Christian Science Monitor
Chicago is "a wash," says Jason Weyland, an architect who lost his Windy City job when his firm cut half its workforce earlier this year.
So on this day Mr. Weyland – married, bespectacled, and crisp-suited – is on a job hunt in a city that, just a few years ago, many Americans had written off, irrevocably sold down the mighty Mississippi.
"It's hard to believe, but New Orleans has become a legitimate city," he says, riding the St. Charles Streetcar line to a promising follow-up interview. "It's got jobs, great culture, history, and it's a city where people walk, which I like."
As the anchor of Louisiana – the only state with positive employment numbers – New Orleans is back.
Drawn by its walkable streets, antique neighborhoods, and laissez-faire regulation, young American workers are flocking to the Big Easy to stay, sensing an opportunity to redraw the economy and at the same time be a part of something bigger: rebuilding the only major US city to be completely devastated by a hurricane.
In many ways, it's a stunning and irony-laden turnaround for a city whose deep social inequalities were laid bare when hurricane Katrina flooded it 3-1/2 years ago.
It's too early to tell, though, whether New Orleans can build an urban economic model to help lead the nation out of its economic doldrums – or will wind up spinning downward on the tail end of the recession.
---