Alleged terror plot disrupted by New York officials, FBI
Four men planned attacks against Jewish and military targets, according to authorities.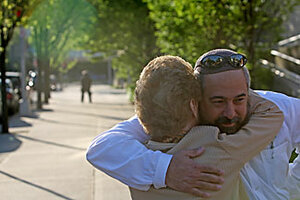 David Goldman/AP
The Federal Bureau of Investigation and New York City officials have arrested four men who allegedly planned terrorist attacks against Jewish and military targets.
The arrests, which took place late Wednesday in the Riverdale section of the Bronx, were made after the men were said to have placed FBI-altered bombs outside a synagogue and Jewish community center. The police, using an 18-wheel truck, blocked their getaway and then apprehended the unarmed suspects.
According to news reports, New York City police commissioner Raymond Kelly, at a news conference, quoted one of the men as saying, "If Jews were killed in this attack ... that would be all right." A federal complaint states that one of the alleged conspirators said he wanted to do "something to America."
Separately, President Obama, in a major speech Thursday morning on terrorism and Guantánamo, said his most important responsibility as president is to keep the American people safe. "That is the first thing that I think about when I wake up in the morning. It is the last thing that I think about when I go to sleep at night," he said at the National Archives in Washington.
---