Obama: Bring Guantánamo detainees to US, detain some indefinitely
His bid to close the prison camp in jeopardy, he laid out five options Thursday for resolving the detainees' status.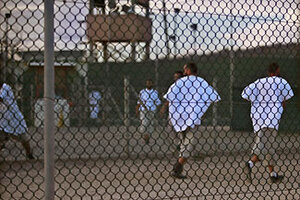 Brennan Linsley/AP
The Obama administration is developing a system to hold terrorism suspects in indefinite detention without charge based on an assessment that they are too dangerous to release.
In a major national security speech Thursday, President Obama unveiled the most detailed account yet of his administration's emerging approach to countering the threat of Al Qaeda terrorism. It included the certainty that many – and perhaps most – of the 240 detainees now housed at the US terror prison camp at Guantánamo Bay, Cuba, will be brought to American soil to stand trial or for long-term preventative detention.
"I want to be honest with you, this is the toughest issue we will face," the president said, speaking at the National Archives within sight of the US Constitution and Declaration of Independence.
"We are going to exhaust every avenue that we have to prosecute those at Guantánamo who pose a danger to our country," he said. "But even when this process is complete, there will be a number of people who cannot be prosecuted for past crimes because evidence might be tainted, but who nonetheless pose a threat to the security of the United States."
Announcement of the preventative detention policy brought swift criticism.
"Allowing detention without trial creates a dangerous loophole in our justice system that mimics the Bush administration's abusive approach to fighting terrorism," Kenneth Roth, executive director of Human Rights Watch, said in a statement.
Congress balks at relocating detainees to US
The president's speech comes at a time when his administration is caught in a cross-fire of criticism from both the left and the right over Mr. Obama's pledge to close Guantánamo by January.
---