How an immigration raid changed a town
Tiny Postville, Iowa, struggles to regain its footing one year after the largest immigration sweep in US history.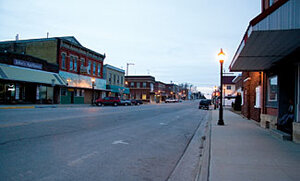 Sally Morrow Gomez
This town tucked in the black-loam corner of northeastern Iowa has long been a bustling, polyglot place. If it was a morning pastry you wanted, you could get it at a Somali-run coffee shop. Other red-brick storefronts along Lawler Street, the main thoroughfare, specialized in Mexican or Guatemalan food.
Jewish kids attended school at their own yeshiva, while their parents bought matzo ball mix and gefilte fish at a kosher restaurant and grocery store. A sign at the high school track and football field, set hard against rows of corn, cautioned youths about rollerblading or biking on the grounds – in English, Spanish, and Ukrainian.
But then federal immigration authorities raided the dominant business in town, a meat-processing plant, which employed almost half the area's 2,300 residents, many of them undocumented workers. Today, one year later, Postville is hanging on by a bib-overall thread.
The slaughterhouse is bankrupt. Scores of homes have been vacated by the workers who were either deported or thrown out of jobs. Retailers are shuttering businesses. Most telling of all, the city council has declared the town a disaster area.
In many ways, Postville represents a classic tale of what can happen when a large employer in a small town runs into trouble. It's a story of how a government raid – however justified – has changed a town. Now, as Postville tries to reinvent itself, it may hold lessons for other towns across the country.
"What happened did not happen overnight, and a recovery will not happen overnight," says Maryn Olson, the head of the Postville Response Coalition, a group of business, church, and civic leaders working to save the town.
---