Debt-collection tactics under scrutiny
At issue: Coercing debtors into waiving rights they don't know they have.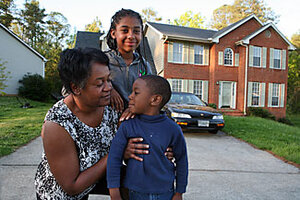 Melanie Stetson Freeman/Staff
Debt collector Antangela Pauldo had heard every excuse for why people couldn't pay their auto loans. And like most in her line of work, she instinctively had a skeptical view of every sob story.
Today, however, Ms. Pauldo has a new appreciation for the depths to which some in her profession will go to collect debts, especially ones that are no longer legally owed – or were never owed in the first place.
A nearly 10-year-old credit-card account she claims wasn't hers popped up out of nowhere and led to verbal harassment and voice-mail runarounds. Finally, $900 was garnished from her bank account by a Georgia law firm. The firm is now being investigated by the state Office for Consumer Affairs.
"It's made me look at my job differently," says Pauldo, who complained to the Georgia Better Business Bureau. "There are [debt] issues that people bring up that are legitimate, and it's my job to help them – not criticize them."
The story of the debt collector who got burned by her own industry is part of a widening debate about "zombie debt," or debt that never dies. At issue: the tactics used by third-party debt collectors to coerce Americans into waiving a US common-law right: debt forgiveness.
On the heels of a credit-card reform movement in Washington, the Federal Trade Commission (FTC) is now joining a growing number of states to strengthen consumer protections and shed more light on the shadowy tactics of junk debt collectors.
---