Winners and losers in an all-digital TV world
The switch Friday could unleash television on mobile phones (good) and environmental pollution (bad).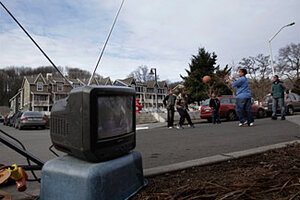 Ted S. Warren/AP/File)
Midnight Friday will usher in a new era in TV history.
In accordance with federal law, all of America's 1,700 television stations will be digital by Saturday, sending out signals that will require viewers to have either a TV-top digital converter box or a subscription to cable or satellite TV.
It marks the first fundamental change in the development of the television industry, says Bill Hayes, president of the Institute of Electrical and Electronics Engineers Broadcast Technology Society.
"Color and stereo were simply refinements," he says, "whereas digital is the dawn of a whole new era of innovation for the industry."
The move creates clear winners and losers.
The winners
Local TV stations. They will be able to provide more services to audiences, because there is more room on the digital signal to broadcast multiple kinds of programming, such as concerts and local civic and sports events.
Emergency and first-responder crews. This additional space on the spectrum frees up more bandwidth for their wireless radio communications, lessening the chance that all frequencies would be jammed during an emergency.
Mobile technology. As early as this summer, mobile broadcast television could be available on phones and other handsets. Commuters will be able to watch the evening news on their cellphones and on portable players.
Advertisers. Keen to microtarget ad-skipping audiences, they are eager to exploit the kinds of interactive technologies that digital makes possible. For example, one Hellmann's Mayonnaise campaign invited viewers on DirecTV to click through an ad into a dedicated channel on which they could build a perfect sandwich and win prizes.
---
Follow Stories Like This
Get the Monitor stories you care about delivered to your inbox.