Air France crash: What is known so far
Two weeks after the flight disappeared, investigators have pieced together many clues but still need the black boxes.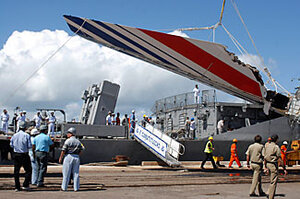 JC Imagem/ Alexandre Severo/ Reuters
In the two weeks since Air France Flight 447 disappeared above the south Atlantic, clues have offered no clear answers as to why the plane crashed.
Perhaps only the planes' black boxes, likely now beneath two miles of water, will ever be able to explain why the aircraft fired off 24 warning messages in the four minutes before it disappeared – and whether these messages point to the cause of the crash or are merely one piece of some larger problem.
A French nuclear submarine and a Dutch ship towing a US Navy listening device searched the area Sunday, seeking the telltale ping of the black box.
Here are what appear to be some of the key clues:
The crash. The evidence gathered so far, while not conclusive, suggests that the plane broke up at high altitudes. Two sets of bodies were found dozens of miles apart. It is not impossible that currents could account for the separation, but a high-altitude breakup is considered more likely.
Moreover, investigators say the bodies were dead before they hit the water. There was no water in the lungs of the dead – something that would suggest drowning.
The plane itself also offers potentially telltale clues: The last of the airplane computer's messages reported that cabin pressure, usually maintained at an equivalent to an elevation of 10,000 feet, was dropping at a rate of 1,800 feet per minute.
Cabin pressure had been lost and one obvious cause could be that the plane was falling apart.
The cause. What is known is that the airplane's flight path took it through an area of severe weather. What is also known is that the series of failures reported by the computer would have been difficult for pilots to handle even under ideal flying conditions. Strong turbulence would have made the job far more daunting.
---
Follow Stories Like This
Get the Monitor stories you care about delivered to your inbox.