Blacks abandon San Francisco
No US city has seen a more rapid decline of its African-American population.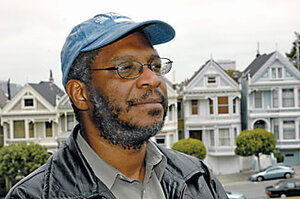 Michael B. Farrell / The Christian Science Monitor
On a recent overcast Saturday, just before noon, the ministers from some of this city's largest black churches arrived in their dapper and dark suits, looking somewhat out of place on a dusty construction site.
They had come to break ground on 21 affordable apartments – a joint project between a church-affiliated development group and Kaiser Permanente, the healthcare provider. There were photo ops, the ceremonial shovels of dirt, and, given the number of reverends on hand, plenty of prayers.
This neighborhood, known as the Western Addition, was once the heartbeat of San Francisco's African-American community. Fillmore Street, known for its vibrant postwar jazz scene, is a few blocks away. KPOO, the first black-owned noncommercial radio station west of the Mississippi, is up the street. And the ministers say they hope that these new apartments – albeit not solely for black residents – begin to stem the rapid decline of the city's African-American population.
Blacks have been leaving San Francisco in record numbers. Blacks accounted for 6.5 percent of the population in 2005, down from a high of 13.4 percent in 1970 – the steepest decline of any major US city, according to the US Census Bureau.
While San Francisco's image has been defined by a history of tolerance and openness, some say today's reality is much different. They paint a picture of a racially and economically divided city where blacks are vanishing from the social and cultural fabric, priced out and marginalized by the urban redevelopment policies of the past half century.
---