US guns feed Mexican drug violence, says report
Most of the guns seized by Mexican authorities are from the US, says a Government Accountability Office report.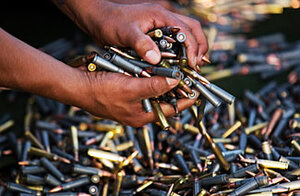 Guillermo Arias/AP
Most of the guns fuelling the drug violence in Mexico originate in the US, according to a US Government Accountability Office report released Thursday that could provoke more heated debate over the flow of guns south of the border.
The report also criticized the lack of coordination between federal agencies in controlling the illegal gun trade along the southern border.
About 87 percent of firearms seized by Mexican authorities for the past five years have been traced back to the US, the report says, although it notes that "it is impossible to know" how many firearms are illegally smuggled into Mexico in a given year.
Many of the firearms come from gun shops and gun shows in Southwest border states, the report says, adding that both US and Mexican law enforcement officials say most of these firearms are intended to support Mexican drug trafficking organizations.
An increasing number of the guns used are automatic rifles illegally obtained in the US, says the report. Around 1,500 were killed in the first three months of 2009 alone in drug-related violence in Mexico.
The GAO report also lends credibility to charges that two US agencies – the Dept. of Justice's Bureau of Alcohol, Tobacco Firearms and Explosives (ATF) and the Dept. of Homeland Security's Immigration and Customs Enforcement (ICE) – have not effectively coordinated their strategies to combat the flow of firearms available at thousands of border stores into Mexico.
---